Contact details
You can contact Daniel either by writing to him at:
Daniel Reeve
PO Box 52064
Titahi Bay
Porirua 5242
New Zealand

or by email at:

or by message on: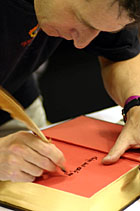 Please note:
"I accept commission work, but I am not permitted to create replicas of movie props, maps of Middle-earth, or anything else which would breach copyright with Tolkien Estate or New Line Cinema. Nor can I release the fonts which I created for The Lord of the Rings, though I have created some that are very similar - they are now available for purchase on the Fonts page.
"I can draw maps of some place dear to you - nobody has copyright on the planet Earth, as far as I know. And I can offer calligraphic treatments of favourite quotes, etc. So, if you're considering a commission, think outside the square..."